Takata Airbags Recall Attorneys in Arizona
Home

/

Takata Airbags Recall Attorneys in Arizona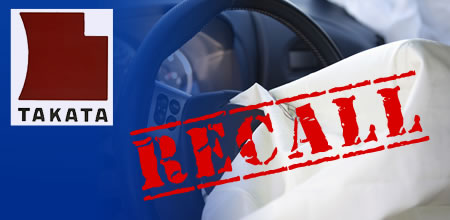 In an auto accident, a functioning airbag can often mean the difference between life and death. Airbags save hundreds of thousands of lives every year, but only when they are working properly. When an airbag is defective, the device intended to save your life may cause more harm than good. That has unfortunately been the case with a number of Takata airbags, and why many are turning to Takata airbag recall attorneys for assistance.
Takata Corporation, an airbag manufacturer whose products are found in vehicles across the country, has issued a massive recall of millions of defective airbags. The attorneys at the Phillips Law Group are investigating claims that Takata airbags have caused multiple deaths and hundreds of injuries.
If you or your loved one was injured by a defective Takata airbag, you may be able to recover compensation for your injuries and damages. Contact the Takata airbag attorneys at Phillips Law Group today to learn more about your legal rights.
Millions of Airbags Recalled
Takata has recalled millions of airbags since 2008, affecting many makes and models of vehicles throughout the country.
The most recent recall was mandated by the NHTSA after reports that the defective airbags are susceptible to deterioration after exposure to high heat and humidity. As a result of the deterioration, the airbags combust in an overly-aggressive manner, which can shatter the airbag inflator housing. When the airbag deploys, these shards of metal from the housing are forced out at a great speed, leading to gruesome injuries.
Several deaths and many injuries have been attributed to these flying pieces of the airbag housing striking accident victims in the face and neck. In addition to this particular defect, other problems with the airbags have included ruptures as well as design defects and manufacturing flaws.
Takata May Have Hidden Defects for Years
Recent reports indicate that Takata knew about these defects over a decade ago. Takata allegedly performed secret tests on its airbags after the company received reports that a driver in Alabama had been killed by shards of flying metal.
Rather than report the results of their tests to the NHTSA, Takata ordered its scientists to destroy the testing data. Takata has claimed that the issues with its airbags were resolved in the early 2000s, but employees speaking to The New York Times doubted the company's truthfulness, and internal company documents revealed that Takata's upper management may not have been as forthcoming as first thought.
As a result of these allegations, the House of Representatives asked the Government Accountability Office to begin an investigation into Takata's handling of its airbag issues. The NHTSA is also investigating the company, as well as automakers who used Takata parts.
Is Your Car's Airbag Defective?
If you are concerned that your vehicle may be unsafe, you should use the NHTSA's VIN lookup tool to check your particular vehicle.
In general, vehicles affected by this recall include the following models:
BMW
2000 2005 3 Series Sedan
2000 2006 3 Series Coupe
2000 2005 3 Series Sports Wagon
2000 2006 3 Series Convertible
2001 2006 M3 Coupe
2001 2006 M3 Convertible
Chrysler
2003 2008 Dodge Ram 1500
2005 2008 Dodge Ram 2500
2006 2008 Dodge Ram 3500
2006 2008 Dodge Ram 4500
2008 Dodge Ram 5500
2005 2008 Dodge Durango
2005 2008 Dodge Dakota
2005 2008 Chrysler 300
2007 2008 Chrysler Aspen
Ford
2004 Ranger
2005 2006 GT
2005 2007 Mustang
General Motors (GM)
2003 2005 Pontiac Vibe
2005 Saab 9-2X
Honda
2001 2007 Honda Accord)
2001 2002 Honda Accord
2001 2005 Honda Civic
2002 2006 Honda CR-V
2003 2011 Honda Element
2002 2004 Honda Odyssey
2003 2007 Honda Pilot
2006 Honda Ridgeline
2003 2006 Acura MDX
2002 2003 Acura TL/CL
2005 Acura RL
Mazda
2003 2007 Mazda6
2006 2007 MazdaSpeed6
2004 2008 Mazda RX-8
2004 2005 MPV
2004 B-Series Truck
Mitsubishi
2004 2005 Lancer
2006 2007 Raider
Nissan
2001 2003 Nissan Maxima
2001 2004 Nissan Pathfinder
2002 2004 Nissan Sentra
2001 2004 Infiniti I30/I35
2002 2003 Infiniti QX4
2003 2005 Infiniti FX35/FX45
Subaru
2003 2005 Baja
2003 2005 Legacy
2003 2005 Outback
2004 2005 Impreza
Toyota
2002 2005 Lexus SC
2002 2005 Toyota Corolla
2003 2005 Toyota Corolla Matrix
2002 2005 Toyota Sequoia
2003 2005 Toyota Tundra
Injured by an Airbag? Phillips Law Group Can Help
At Phillips Law Group, our attorneys believe that you should be able to count on your car's airbags to keep you safe. If you were injured in an auto accident and think your airbag was defective, our Takata airbag products liability attorneys can help you pursue compensation for your injuries.
Call 1-800-706-3000 or use the online case evaluation form on this page to contact Phillips Law Group today.
Free Case Evaluation
By submitting your contact information, you agree that we may contact you by telephone (including text) and email in accordance with our Terms and Privacy Policy
Your message has been sent
Thank you for your message, we will get back to you soon.
Jasmine helped me so so much I want to thank her ! And also Aaron , i was always scared after an accident , knowing I would have to deal with lawyers but not here . Luckily I've only been in 3 accidents but this time it was fast and easy . And i received all the treatments I needed to help me recover ! Thank you Jasmine and Aaron!

Sophia H is a pleasure to work with! Thanks for all you do.

Jasmine , did a great job . Highly recommend!!!!!

Liz Gonzales was great!!!!

Thank you Phillips Law Group for all the support and back to school assistance we appreciate it.

Sophia H is very helpful.

Jasmine Delgado is an amazing paralegal. She was patient, kind and extremely knowledgeable. Highly recommend Phillips law group

PLG is the best! Highly recommend. Love that they do so much to help the community.

Phillips is the best!! Love all that they do to give back to the community and how much they help those who are experiencing homelessness. ❤️